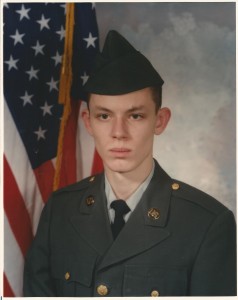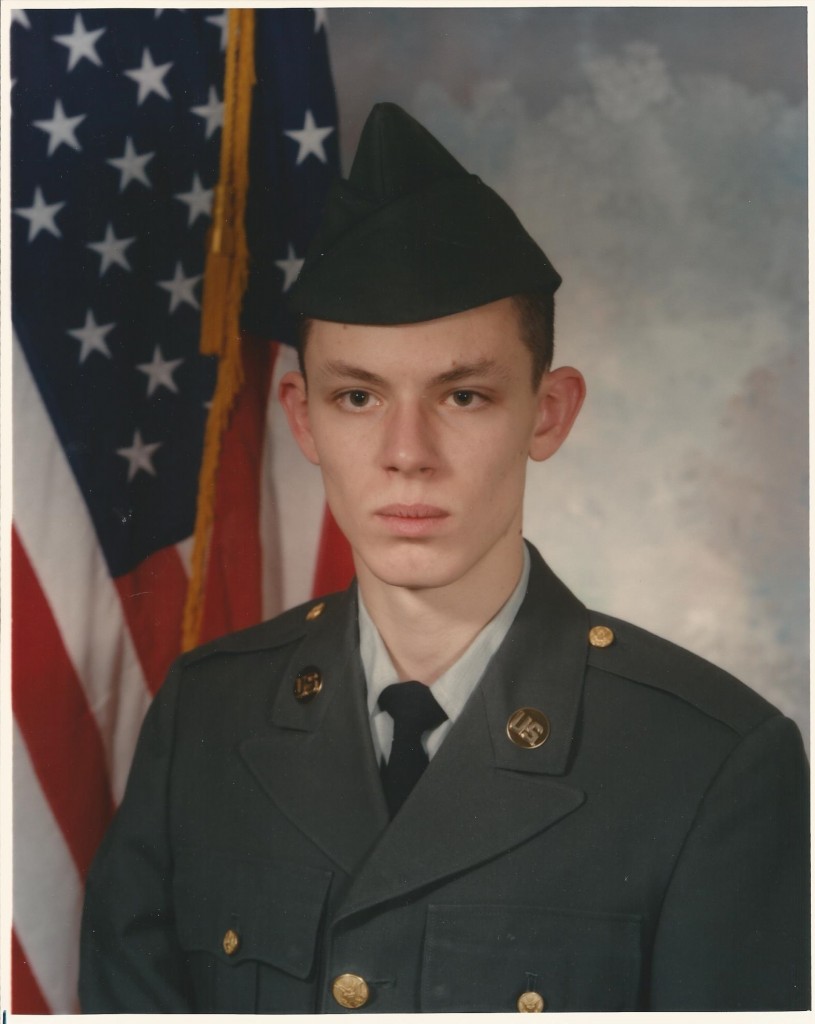 I went through US Army Basic Training at Ft. Knox, KY in late 1987.
My advanced training was mixed in with the basic and so I was there for 14 weeks.  It was easy in some parts and hard in others.  The hardest part for me was the physical training.  I some how evaded Physical Education through my entire high school career.  At 5′ 10″ 105 lbs.  the things they had us doing wrecked havoc on my body.  I was constantly in the lowest scores with the weakest soldiers.  I did not want to be recycled through the whole program and so I kicked it into gear, exercised in what little free time I had and got my scores up.  I gained about 20 lbs. which still was not much but a lot for me.
At this time I was learning to work together with others, be a part of a team, and serve my country.  However, I think that God was so far back in my mind that I forgot about Him.  I went to the Post Chapel on Sundays but, mostly to get out of doing crazy duties they would come up with for non-church goers.  So the only thing I remember about attending the services there was, feeling a little nostalgic about being away from home, especially during the holidays.
I graduated as a Cavalry Scout and was sent to Airborne School at Ft. Benning, GA.  I was going to learn to jump out of planes for an extra $100 a month.  I was going to go the the 82nd Airborne Division at Ft. Bragg, NC, just as planned.  While I was running in my second week there, I heard a snap and a sharp pain in my right leg flared up.  I did not want to stop running because if I dropped out two times, I would have been kicked out of the program.  So, I ran the last mile and a half through the pain.  After the adrenaline wore off, I realized I needed to go to the hospital.  My legs had stress fractures from Basic Training and the intense run cause one to break all the way through.
I got a cast on my leg, a drop from the program and a reassignment to 5th Infantry Division, Ft. Polk, LA.  Not my plan.  I cut the cast off with a saw before I arrived at Ft. Polk because I could not sit on a toilet and showering was a nightmare.  I settled into my Scout Platoon  and made a few friends.  They say that Ft. Polk is not the end of the world but you can see it from there.  Not much there to do at all.
On the weekends I began to go to the night clubs in Alexandria about an hour away from the Post.  I had never even taken a drink before so I thought this type of fun would be manageable.  The music, the night life, everyone seemed so nice and happy, having a great time, living the life.  One night a friend said try this and I took some sort of pill without thinking about it.  It seemed like an impulse.  Shortly after that, a euphoria took over my entire senses.  I could feel my eyes roll back involuntarily, waves of warm but shivering convulsions rolled through my body from head to toe.  I remember gripping on to my chair for dear life.  I don't know how long that lasted but as the intensity waned, I began to dance.  I did not know how to dance and so what ever had taken over, really had taken over.
I had taken ecstasy and my life was never the same again.